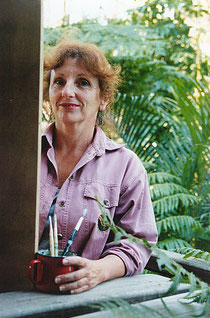 Artist Statement
Art is a tool for contemplating the universe.  Art makes visible that which is not.  It enables us to see the world differently, and to experience it more deeply. 
Our public artworks contain narratives born of site, of natural and social histories, of aesthetics and context. Narrative, however, also means open readings - multiple possibilities within a theme - which is a consequence of varying ratios of realism and abstraction.   
Work easily understood is easily forgotten.  The primary clients are 'the locals' - those who confront the work frequently, and so public art should be a cumulative experience in which multiple readings are required to fully enjoy its possibilities of meaning. 
Qualifications                                                                                                                 
National Diploma of Horticulture, Wanganui Polytechnic, NZ – 3 papers     1989  Certificate in Horticulture, Wanganui Polytechnic, NZ                            1989
Fine Arts, part-time, Wanganui Polytechnic, NZ                               1987-88
Diploma Graphic & Industrial Design, Wellington Polytechnic, NZ              1967

Public Art Experience
Partnering Paul Johnson in ARTVENTURE, I have worked on over 30 public art projects in Australia.