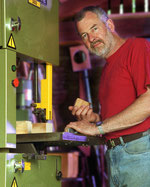 Born in Wanganui, New Zealand
BFA, University of Auckland, NZ 1971
BA.Art Ed, Nova Scotia College of Art & Design, Canada 1976
Post-grad Cert. Museum Studies, Toronto, Canada 1981

Studying under Colin McCahon [1967-71] at Elam School of Art was profoundly significant; not so much for his formal teaching, but for the contact with his art, values and ideas.
Seven years in Canada [1972-79] had several important outcomes: a heightened sensitivity to the natural world, through immersion in its dramatic seasonal change [laying asphalt in summer, driving snow-ploughs in winter]; being introduced to the sculptural potential of clay at Halifax; and the birth of my 2 children, Heidi in Nova Scotia and Galen in Newfoundland.
This was followed by five years of working in New Zealand public art galleries [1980-84]. Among other shows, I curated "Stations of the Cross" 1981 - a review of contemporary Christian art in New Zealand; the "Rudi Gopas Retrospective" 1982; and the international survey show "Pacific Glass '83". This period saw the development of large-scale commissions - which continued until the stock-market crash of '86. Working alongside Don Driver and David Clegg in New Plymouth was particularly influential on both aesthetic and conceptual levels.
From 1985-2000, I taught Art History and Fine Arts at Wanganui Polytechnic, NZ. Four journeys to Japan [1986-98], an extended study tour in Europe [1991-92] and a year teaching in Malaysian art schools [1996] saw a shift in the use of materials, a stronger conceptual framework and a more refined sense of craftsmanship.  My studio work consistently probed the process of cultural evolution, the changing composition of our social fabric, and the resultant shifts of aesthetic and ecological values.
Since arriving in South East Queensland in 2001, the regular schedule of exhibitions has been dropped for a full-time commitment to public art – an arena in which ideas do not go unchallenged, and where the audience is not self-selecting.  In contrast to studio practice, this kind of work begins with the site and the client.  It self-consciously addresses a whole range of viewers while ensuring significant durability of both materials and ideas.